Samsung Wins Eight Outstanding Achievement Awards
from Buyers Laboratory for its Multifunction Printers
Seven wins for its MultiXpress series and an award for the ProXpress M4580/M4583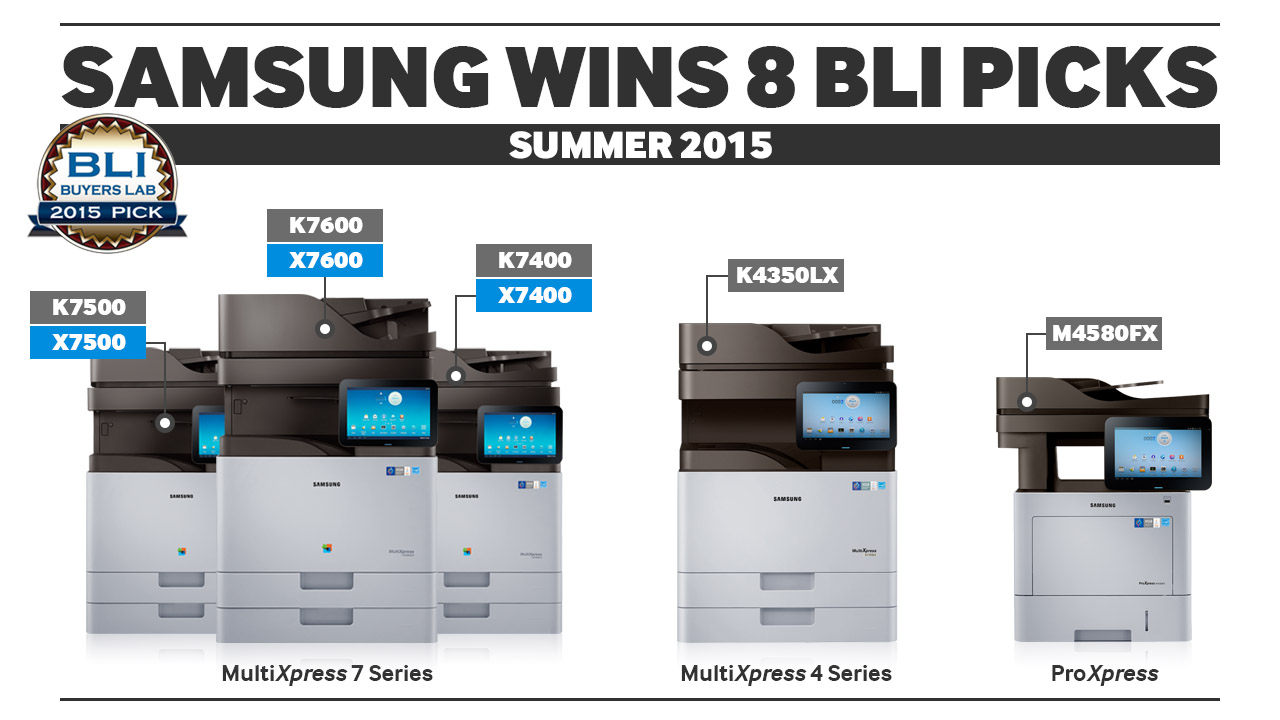 SEOUL, Korea – August 28, 2015 – Samsung Electronics Co., Ltd. announced today that it has received eight Outstanding Achievement awards—seven for its SMART MultiXpress series—at the Buyers Laboratory (BLI) 2015 Summer Awards.
The awards for Samsung Electronics went to the entire line of the SMART MultiXpress 7 Series (X7600, X7500, X7400, K7600, K7500, K7400) for the "Outstanding A3 Monochrome MFP" and "Outstanding A3 Color MFP" categories in the following speed segments: 51 to 60 ppm, 41 to 50 ppm, and 31 to 40 ppm.
Another SMART MultiXpress model, the K4350LX, won in the "Outstanding 31- to 40-ppm A3 Monochrome MFP" category. Additionally, the SMART ProXpress M4580/M4583FX, an A4 MFP series, won in the "Outstanding Achievement in the MFP for Mid-size to Large Workgroups" category.
"Buyers looking for highly reliable MFPs with top-notch print output need to look no further than Samsung's MultiXpress color X7400, X7500 and X7600 Series, and monochrome K7400, K7500 and K7600 Series," said George Mikolay, Senior Product Editor at BLI.
The X color models produced high quality graphics and images, and the K monochrome models received BLI's highest rating in every print quality category tested. Both the color and monochrome models showed fast scanning speeds, with duplex mode scanning twice to three times as fast as other models in the market.
SMART MultiXpress, a new printing ecosystem
The MultiXpress 7 series distinguishes itself with the quad-core CPU and dual-scan document feeder, printing a page per second and scanning four pages every second, respectively. The MultiXpress 4 series runs on a dual-core processor, printing 45 pages per minute. It also features the fast-scanning dual-scan document feeder.
All of Samsung's SMART MultiXpress models come with the Smart UX Center, an Android-based user interface that offers a smart touch user experience and printing apps designed to create a seamless printing workflow.
"We are thrilled to receive the Outstanding A3 Monochrome MFP award for four speed segments," said David SW Song, Senior Vice President of Strategy Marketing and Sales, Printing Solutions at Samsung Electronics. "Based on our philosophy of providing an efficient printing ecosystem, we will continue innovating new products and solutions that offer customization for enhanced productivity and cost savings."
The ProXpress M4580/M4583 wins for ease of use and customization
The ProXpress M4580/M4583 Series was recognized for its excellence as an MFP for mid-to-large sized workgroups.
"The ProXpress M4580FX completed 200,000 impressions with no jams or issues, so users can expect maximum uptime," said Marlene Orr, Senior Analyst at BLI. "This, along with robust scanning, an Android-based control panel that offers exceptional customization to boost flexibility and ease of use, and a low cost of ownership make ProXpress M4580FX an excellent choice for mid-to-large sized workgroups."
Samsung has won BLI's "Monochrome Printer/MFP Line of the Year" award three times since 2012, placing the brand on the map as a strong player in the monochrome category.
"Our customers' loyalty and resounding appreciation for our products is a testament to our commitment to the user," said David SW Song. "Many large businesses are opting for A4 MFPs these days in lieu of the larger and more expensive A3 devices, and we will continue meeting the needs of this market by offering similarly distinguished and robust A4 printers."
About Samsung Electronics Co., Ltd.
Samsung Electronics Co., Ltd. inspires the world and shapes the future with transformative ideas and technologies, redefining the worlds of TVs, smartphones, wearable devices, tablets, cameras, digital appliances, printers, medical equipment, network systems, and semiconductor and LED solutions. We are also leading in the Internet of Things space through, among others, our Smart Home and Digital Health initiatives. We employ 319,000 people across 84 countries with annual sales of US $196 billion. To discover more, please visit our official website at www.samsung.com and our official blog at global.samsungtomorrow.com.
About Buyers Laboratory LLC
Buyers Laboratory LLC (BLI) is the world's leading independent provider of analytical information and services to the digital imaging and document management industry. For over 50 years, buyers have relied on BLI to help them differentiate products' strengths and weaknesses and make the best purchasing decisions, while industry sales, marketing and product professionals have turned to BLI for insightful competitive intelligence and valued guidance on product development, competitive positioning and sales channel and marketing support. Using BLI's web-based bliQ and Solutions Center services, 40,000 professionals worldwide create extensive side-by-side comparisons of hardware and software solutions for over 15,000 products globally, including comprehensive specifications and the performance results and ratings from BLI's unparalleled Lab, Solutions and Environmental Test Reports, the result of months of hands-on evaluation in its US and UK labs. The services, also available via mobile devices, include a comprehensive library of BLI's test reports, an image gallery, hard to find manufacturers' literature and valuable tools for configuring products, calculating total cost of ownership (TCO) and annual power usage. BLI also offers consulting and private, for-hire testing services that help manufacturers develop and market better products and consumables.
Recent Posts
HP Australia hosted their annual awards night in Sydney honouring its top performing partners acr …

Toner and ink cartridge recycling now on-site at our Sydney office!'Cartridges 4 Panet Ark' is an in …

Now, nothing holds you back. When you think of gaming brands, the first things people g …